Download it here: XPlane2Blender v4.0.0-alpha.5, aka LODs

XPlane2Blender v4.0.0-alpha.5, aka LODs
As always, make backups! This includes making backups before saving a 2.79 file in 2.80. There is no going back from that!
Override LODs feature and backwards compatibility
A quick LODs recap
This release includes the last must-have feature for 2.80 – LODs. For those who haven't used LODs before, it stands for (Levels of Detail). It is a way of defining what to draw when the camera is a certain distance away from an OBJ. In XPlane2Blender we call those ranges "buckets" and put Blender Objects (meshes, lights, armatures, empties) "inside them". For instance, suppose an OBJ of a hanger with 2 defined ranges (buckets) 0 to 200 and 200 to 400. It has two meshes "HangerDetailed" (bucket 1) and "HangerLowPoly" (bucket 2).
When the camera is close (0 to 199 meters), only the "HangerDetailed" mesh will be drawn. When it is far (200 to 399), only "HangerLowPoly" will be drawn. At 400 meters and above, nothing will be drawn. This is very useful for increasing the performance by not drawing what is too far away for the pilot to see.
There are two styles of Level Of Detail: Additive (where every bucket starts at 0) and Selective (where the end of one bucket and start of the next are equal (see example above)). Use one or the other depending on what you need to draw when; don't mix between them.
LODs Mode in XPlane2Blender
Using LODs in XPlane2Blender is very easy: Define the ranges (buckets) in the OBJ settings, and tell Blender Objects which buckets they should go in.
"LODs Mode" is considered On when you have specified a number of LOD buckets in the OBJ settings.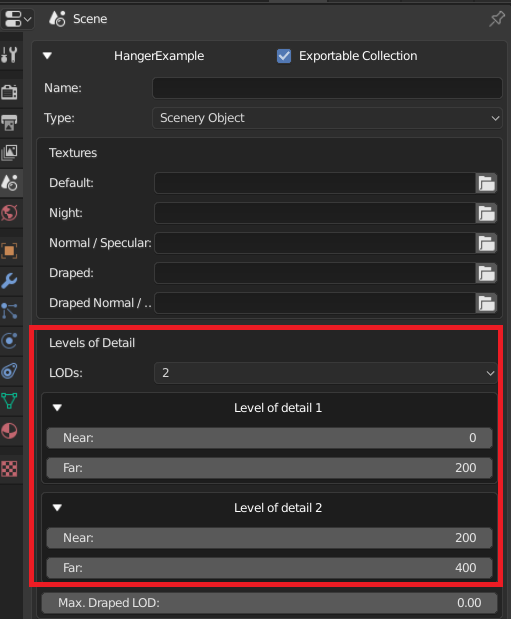 This means that:
LOD validations are on (see later section)
Objects must be placed into defined buckets or they will not be drawn. This is where the new "Override LODs" checkbox on Blender Objects comes into play.
[Picture]
The LODs feature works just like 2.79's Layers Mode LODs, with a new time saving feature and some very small backwards compatibility notes.
Override LODs
In the Object Properties Tab of the Properties Editor, you'll see a new "Override LODs" checkbox.
When checked, the familiar 4 LOD bucket choice checkboxes will appear.
Specify which buckets an Object will go into. All children below it will also go into the same buckets. Children who also override LODs will pass their new choices on instead.

In this picture HangerDetailed has its "Override LODs" checkbox checked, and has been placed into bucket 1. Its child, WindowDetails, will automatically be placed into bucket 1 too.
An Object's LOD choices will only be used if "Override LODs" is checked.
The idea is that just a few objects in the Blender Hierarchy will need to override the LOD choices, and old projects can be quickly reorganized to take advantage of this new feature. Inheritance will greatly reduce data entry.
Backwards Compatibility
There are only a few differences from 2.79 to be aware of
| Backwards Compatibility Concern | Resolution |
| --- | --- |
| In 2.79 "No buckets chosen = Write to every LOD". In 2.80 "No buckets chosen = Object not written" | Use the new feature to quickly specify which objects should be in all buckets |
| 2.79 Layers Mode projects did not have an "Override LODs" checkbox, LOD choices hidden | Your old choices are remembered. Use the new Override LODs feature to quickly get the OBJ correct again |
| 2.79 Root Objects Mode used layers 1-4 to put Objects into buckets | Quickly restore your project like this: Make an Empty for each layer used, override the Empty's LOD buckets, and re-parent the objects so that all Objects are in their former buckets. If an object was used on more layers, make more empties to organize these cases |
LOD Validations
For mistakes like not starting the first bucket at 0, having gaps or overlaps between ranges, and etc, an error will be emitted in the log.
Other Bug Fixes
Many thanks to all the people who e-mailed me and helped me design the new LOD feature. This is an alpha feature so if the overall response is "this isn't doing what we need" it can be ripped out, but, I think it will meet expectations. Also, especially tell me if it difficult to take a 2.79 project with LODs and make it work again. The goal is that it an artist should be able to do it in about 5 minutes without the use of an updater for most projects.
I'm so glad to be working on a project with users who are very willing to send in good bug reports and great constructive feedback and criticism! Very refreshing! As always, if something goes wrong write a bug report (preferable) or e-mail me!
---